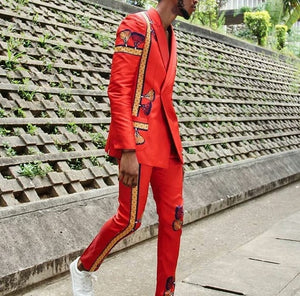 Kamsi TCharles Alli 2piece double Breasted Suit.
Sale price Price $650.72 Regular price $750.00
All suits are not equal, some are made to express, impress and oppress.
Step into bold sophistication with our Print Red double-breasted suit. The rich crimson hue is expertly woven into an intricate pattern, adding depth and texture to this classic silhouette. The double-breasted design exudes confidence and modernity, while the impeccable tailoring ensures a sharp and flattering fit.